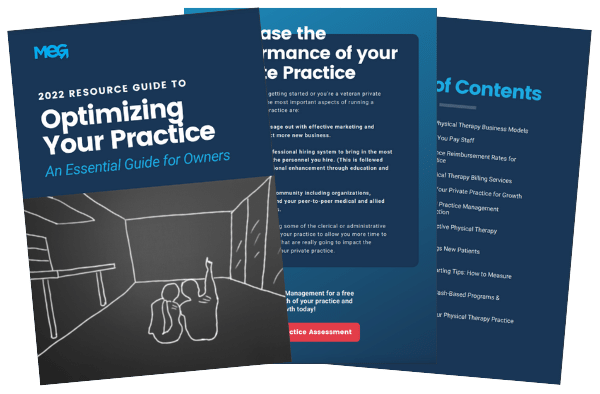 THE PHYSICAL THERAPY GUIDE TO OPTIMIZING YOUR PRIVATE PRACTICE
An Essential Guide for PT Owners
This Comprehensive Resource Guide includes:
Pros & Cons of Physical Therapy Business Models

Tips on Changing the Way You Pay Staff


Understanding the Medicare Cut

How to Negotiate Reimbursement Rates

How to Assess Your Billing Services

Guide for Structuring Your Practice for Growth

How to Bring in New Patients & Referrals


Top Cash-Based Programs & Technologies

Essential Marketing Strategies for PT Owners

Telehealth Options in our New Normal
Fill out the form for instant access to your free guide!
Complete the form to gain instant access to our free resource guide:
Find the Business Model For Your Practice!
This physical therapy owner's guide was designed to help you choose the right business model for your private practice and give you the practical set up strategies to succeed.
EXPECTED OUTCOMES: As a PT Owner, you will discover how to bring your passion of ownership to the new world of Physical Therapy that includes cash-based business resources with cutting edge practice advancement technologies.
This will result in multiple verticals that deliver greater ROI, increased income, scalability and stability.