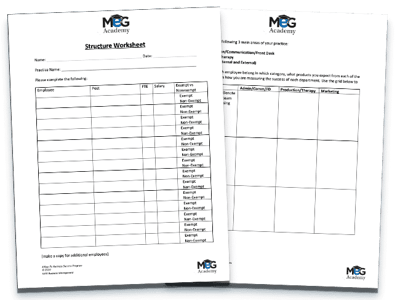 Physical Therapy Structure Worksheet
This quick download serves as a great starter tool for revamping your physical therapy clinic's structure, including the post, products and stats to be recorded for each employee and lets you categorize them as administration, production, or marketing. The worksheet helps you consider:
Which employees belong in which category
What products you expect from each of the areas
How to measure the success of each department
The Private Practice's Personnel Structure
Fill out the form below to request MEG's free worksheet to help break down three main areas of your practice.
MORE USEFUL PHYSICAL THERAPY RESOURCES FROM MEG:
2021 PT Owner Resource Guide
This essential guide explains how to optimize the patient experience and business results of your private practice.
Physical Therapy Personnel Toolkit
Check out MEG's resource for onboarding, training, and reviewing the personnel division of your physical therapy practice.